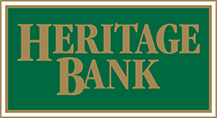 Questions, comments, suggestions? We'd like to hear from you.
If you can't visit us in person at one of our branches, you can contact us at:


Mailing address:


Heritage Bank
695 Marion Blvd
Marion, Iowa 52302



Email Customer Service:

Please note that email is not a secure means of communication. Please do not send personal or confidential information such as social security numbers, account numbers or any other personal information. Heritage Bank will never ask you to send this type of information via email.


Customer Help at Heritage Bank
Phone number: 319-373-5400


Contact Us | Privacy Policy | Site Map

© 2020 Heritage Bank, Marion Iowa. All Rights Reserved.